In order to bring innovative drugs to patients in the US., ONO PHARMA USA, INC., has been improving its organization so that OPUS can conduct clinical development to commercialization in the US. In addition, OPUS is actively advancing the use of open innovation for the discovery and development of innovative drugs to contribute to patients suffering from various disease in the US.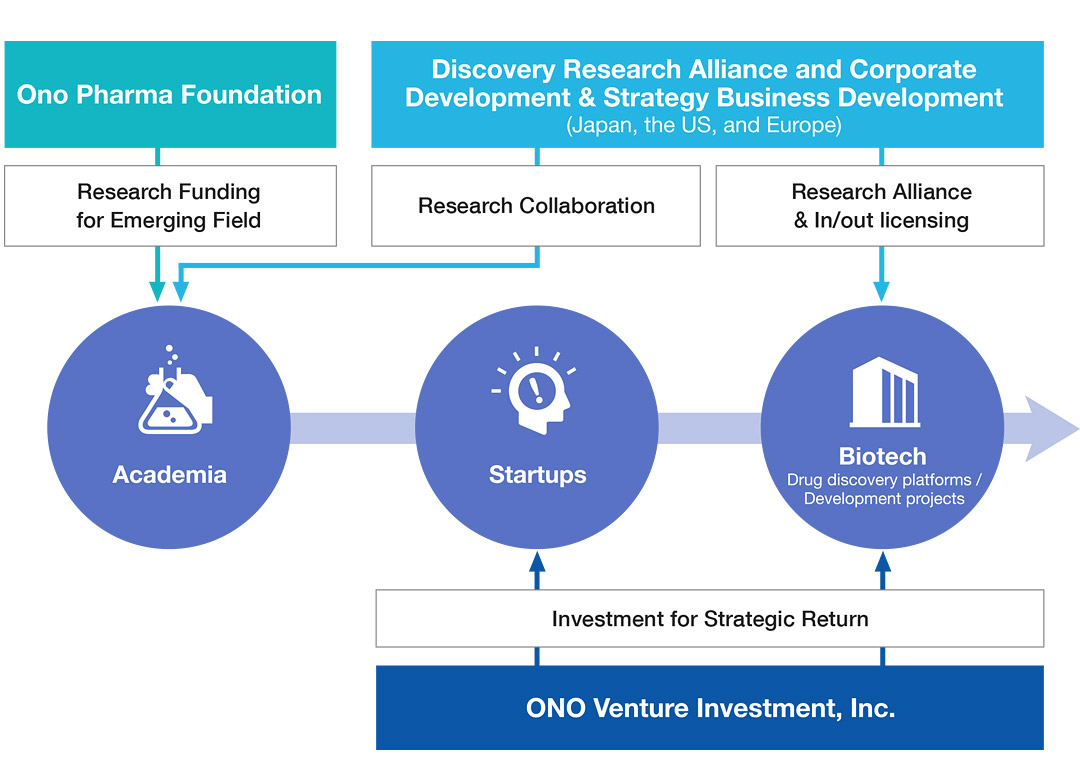 Clinical Development
To market globally on our own, ONO PHARMACEUTICAL CO., LTD. (ONO) has set up the US local center for clinical development and built a organization that ensures that ONO can perform clinical development and apply for approval by itself. In 2019, ONO transferred the functions of the Global Clinical Development Division from Japan to its US subsidiary OPUS. OPUS started clinical trial to develop ONO-4059, tirabrutinib and some compounds in the US and Europe. OPUS will pursue organizational improvements that enable us to conduct clinical trials in the US and Europe and submit applications for approval through consultation with the regulatory authorities.
Discovery Research Alliance
ONO has discovered drug seeds or new drug candidates to compounds and developed breakthrough new drugs through collaboration with academia and research institutes including universities since before the words "open innovation" started to become widely used. With Discovery Research Alliance and Corporate Development & Strategy Business Development taking the lead, we continue to pursue drug discovery collaborations and licensing activities with world class researchers and biopharmaceutical companies mainly in the priority areas of research. We also pursue research collaboration activities with speed to collect cutting-edge scientific information and proceed with drug discovery based thereon ahead of the competition as fast as possible. We place employees with extensive experience in discovery research to our overseas subsidiaries in the US and UK, and they visit world class researchers and biopharmaceutical companies in the US and Europe to look for promising research alliances.
In 2017, ONO established the Ono Pharma Foundation in the US to set up academic research grants with an eye to the future, and have succeeded in building a cutting-edge scientific research network of grant recipients. In 2020, we launched US subsidiary Ono Venture Investment, Inc. to further enhance our competitiveness in drug discovery and R&D via strategic investments in drug targets and advanced technologies enabling breakthrough new drugs.